Portable Warehousing & Container Storage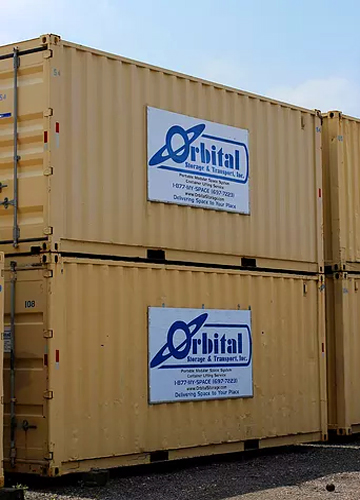 Mobile & Secure On-site Storage Solutions
Orbital Transport provides long and short-term storage and warehousing solutions for your business on-site operations.  Our portable warehousing solution offers safety, security, and cost benefits.   Eliminate the need to lease warehouse space off-site by utilizing our modular warehouse units, and save yourself time and money in material transfers and security. 
Our heavy duty corten steel conex storage containers sit directly on the ground, which creates a rapid turnkey setup and provides a cost-effective solution. When you are done at the job site, we can quickly level-lift and transport your LOADED storage container to its next location! Our unique intermodal sidelifter mobile crane trucks make it quick and easy for you to use conex containers as an optimal and cost-effective mobile warehousing solution.
Conex Shipping Container Portable Storage Rental
Portable Storage and Warehousing Applications:
Tool & equipment storage 
Temporary office or storefront
Commercial & industrial storage
Construction & contractor on-site storage
Temporary job-site signage
Stackable portable storage units
To learn more about Orbital Transport's shipping container rentals, please visit our container rental page. We offer 20 and 40 foot storage containers.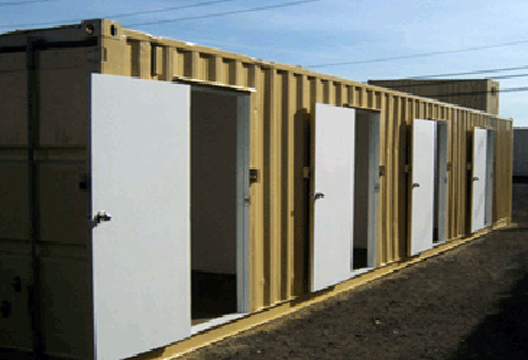 Security
The materials and tools you bring to a jobsite are essential and expensive. Protect your investment from weather and theft with our heavy duty steel conex storage containers. Unlike other services, our storage containers are heavy duty, weather proof, and feature thick steel walls. We are able to customize conex shipping containers to meet a variety of needs. Please visit our Modification page to see how we can transform a simple storage container into a mobile warehouse solution!
Safety
Eliminate the need for stairs on your job site by setting your storage container directly on the ground. No more going up and down stairs loaded down with heavy supplies and equipment. No more worrying about rain, snow, or ice on stairs at your job site. Just open the doors and your teams have ground-level access to all of your materials and supplies. Ground-level access reduces accidents!  Turnkey setup: Move and set your loaded storage units and start working immediately!
Reasons to Choose Orbital Intermodal Transportation:
Transportation Provided for Any 20 or 40 Foot Standard Shipping Container
Unique, Intermodal Sidelifter Mobile Crane Trucks: No Tipping!
20' and 40' Shipping and Storage Container Rentals
Custom Container Modifications
Mobile Warehousing Storage
Onsite Ground Level Container Delivery
Continental US Shipping & Delivery
Orbital Transport is reliable and offers unique solutions to your transportation needs. Contact us today to learn more about Orbital Transport!
Watch this video to see one of our intermodal sidelifter trucks in action, and imagine how it can save you time and money in your application!
Depend on Our Pros to Share the Load.
When it comes to shipping containers, you can forget about the complexities and leave the logistics to the pros at Orbital Transport. If it's in a shipping container, we provide a turnkey solution; load it, move it, and store it.
If you have any questions about your cargo container needs, give us a call and we will be more than happy to answer any question you may have.