Drayage Services Utilizing An Orbital Intermodal Sidelifter Crane
Rail and Ground Drayage Services Utilizing An orbital intermodal Sidelifter Crane
Orbital Transport offers a variety of transport services, including rail and ground drayage services. Working with ContainerMovers.com, allows us to offer national delivery service throughout the continental US..
Drayage services are specialty carriers – with appropriate licensing, bonding, and agreements necessary to fill the gaps in intermodal transportation. Drayage carriers pull containers in and out of ports, harbors, and warehouses.
Our drayage services provide quick, efficient delivery of time-sensitive goods. We employ the latest technologies, letting us provide the visibility and seamless movement that your supply chain management requires. We will get your goods from point A to point B on time, with no damage.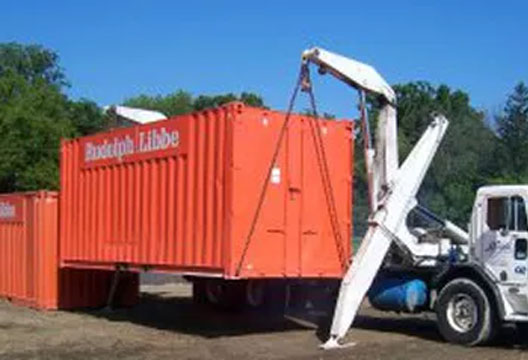 Reliable and Efficient Shipping Container Transport Services
When you are in need of a reliable shipping or conex container trucking company that will efficiently transport  your container, and save you time and money, contact us, Orbital Transport. We are a national shipping container hauling service that utilizes an intermodal sidelifter mobile crane truck to carefully level-lift your fully loaded storage container, creating less shifting of your container's content.
With our unique conex container side loader, we are able to load and unload your shipping container in a variety of situations.  What may be impossible for other container transport companies, is possible for Orbital Transport! We will seamlessly move your conex box to it's intended destination, or provide an equally reliable transport service to do so.  You can trust your goods will be handled with care and delivered on schedule!
Reasons to Choose Orbital Intermodal Transportation:
Transportation Provided for Any 20 or 40 Foot Standard Shipping Container
Unique, Intermodal Sidelifter Mobile Crane Trucks: No Tipping!
20' and 40' Shipping and Storage Container Rentals
Custom Container Modifications
Mobile Warehousing Storage
Onsite Ground Level Container Delivery
Continental US Shipping & Delivery
Orbital Transport is reliable and offers unique solutions to your transportation needs. Contact us today to learn more about Orbital Transport!
Definition: Transporting goods a short distance via ground freight or the charge for such a transport. In freight forwarding, Drayage is typically used to describe the trucking service from an ocean port to a rail ramp, warehouse, or other destination.
History: The word Drayage originally stems from the term dray, a low cart without fixed sides that is used for carrying heavy loads a short distance. Although a dray is defined as a cart historically, a dray may be any vehicle used to transport heavy loads a short distance, such as a truck or sled.
You load it, we move it! We can ship your container, our container, or a 3rd party container!
Intermodal Transport Services
Our unique intermodal sidelifter mobile crane trucks are capable of lifting and moving fully-loaded conex shipping containers, up to 72,000 pounds at intermodal railyards, ports, and from the ground. We lift conex containers straight up and set them straight down (no tilting)! Orbital Transport intermodal trucks can safely transport and handle fully loaded 20 and 40 ft conex storage containers!
Orbital Transport offers drayage services as well as national delivery. We can ship your container, rent you a container, or move a 3rd party container for you.
Watch this video to see one of our intermodal sidelifter trucks in action, and imagine how it can save you time and money in your application!
The Process of Moving a Shipping Container
Data show that intermodal trucking moves 71%of all the freight in America today.  We are a nation highly dependent on the efficient moving of our freight via intermodal shipping container delivery services. However, shipping and transporting freight is not always a straight line when it comes to your supply chain requirements- you need experts to help manage and customize solutions based on your needs. Container delivery service companies need to be able to recognize this and take charge of every customer's needs.
Customers want to entrust their cargo to a company that has the correct container lifting equipment such as mobile side-lifter crane trucks or specialized chassis available for the overweight and over dimensional goods. When exporting goods, they want to know container delivery services are able to accommodate their high-volume containers when the client's own warehouse space is running low so they can get goods ready, loaded into the container and have it hauled away for safekeeping until all the legal documentation is complete for shipment to customers.  It's imperative that a customer is aware of their needs, and of what the container delivery service is able to provide.
Moving a shipping container can evolve into a very sophisticated process. Therefore, a sophisticated customer will search for a company that owns specialized equipment including side-lifter crane trucks, trailers, and chassis.  This company should also have experience in complicated container moves utilizing rail and intermodal trucking. Finding a provider that specializes in and is able to use the best, most reliable rail yards and transportation companies is always an added benefit as well.  It's essential that you select a company with a proven track record who can provide other value added services and unique benefits besides standard drayage to help streamline your shipments.
While the trucking industry is now decades old, it remains dynamic, with constant demand from consumers keeping trucking as vital to the economy as ever.  Trucks move roughly 71% of the nation's freight by weight, and it serves as a vital lifeline between producers and consumers when it comes to everything from gasoline to gallons of milk.  When you are in need of a cargo container moving company, be sure they have the expertise, equipment, and customized solutions for your freight delivery.
Depend on Our Pros to Share the Load.
When it comes to shipping containers, you can forget about the complexities and leave the logistics to the pros at Orbital Transport. If it's in a shipping container, we provide a turnkey solution; load it, move it, and store it.
If you have any questions about your cargo container needs, give us a call and we will be more than happy to answer any question you may have.