Drayage Services & Logistics
Orbital Transport offers a variety of transport services, including drayage services. We also offer national service in the continental US and limited delivery into Canada.
Drayage services are specialty carriers – with appropriate licensing, bonding, and agreements necessary to fill the gaps in intermodal transportation. Drayage carriers pull containers in and out of ports, harbors, and warehouses.
Our drayage services provide quick, efficient delivery of time-sensitive goods. We employ the latest technologies, letting us provide the visibility and seamless movement that your supply chain management requires. We will get your goods from point A to point B on time, with no damage.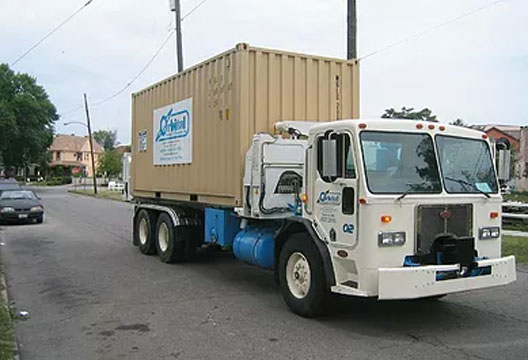 Transporting heavy loads a short distance is a necessity in many industries and is an integral part of many organizational supply chains. You want transparency in your supply chains and to know exactly where your shipment is at all times. We are with you every step of the way and our trusted service providers work diligently to ensure that your shipment is safe and timely.
Our sidelifter crane trucks level lift your full container and transports it wherever you need it to go. 
Orbital Transport offers intermodal services to a variety of intermodal facilities and other businesses. We have a large network that can meet your diverse needs. We work closely with our trusted partners and know that they are more than capable of getting the job done!
From simple deliveries to roaming trade show displays, we have done it all. Over the years we have worked on many time sensitive logistical transportation projects for respected clients which involved us traveling nationally. By using our services, there is no need for you to make the costly capital investments needed to ship your own large, important assets. We offer simple, cost-effective solutions to your intermodal transportation needs.
Drayage Services for States of Major Ports in the Continental US:
Reasons to Choose Orbital Intermodal Transportation:
Transportation Provided for Any 20 or 40 Foot Standard Shipping Container
Unique, Intermodal Sidelifter Mobile Crane Trucks: No Tipping!
20' and 40' Shipping and Storage Container Rentals
Custom Container Modifications
Mobile Warehousing Storage
Onsite Ground Level Container Delivery
Continental US and Canada Shipping & Delivery
Orbital Transport is reliable and offers unique solutions to your transportation needs.
Contact us
today to learn more about Orbital Transport!
Definition: Transporting goods a short distance via ground freight or the charge for such a transport. In freight forwarding, Drayage is typically used to describe the trucking service from an ocean port to a rail ramp, warehouse, or other destination.
History: The word Drayage originally stems from the term dray, a low cart without fixed sides that is used for carrying heavy loads a short distance. Although a dray is defined as a cart historically, a dray may be any vehicle used to transport heavy loads a short distance, such as a truck or sled.
You load it, we move it! We can ship your container, our container, or a 3rd party container!
Intermodal Transport Services
Our unique intermodal sidelifter mobile crane trucks are capable of lifting and moving fully-loaded conex shipping containers, up to 72,000 pounds at intermodal railyards, ports, and from the ground. We lift conex containers straight up and set them straight down (no tilting)! Orbital Transport intermodal trucks can safely transport and handle fully loaded 20 and 40 ft conex storage containers!
Orbital Transport offers drayage services as well as national delivery. We can ship your container, rent you a container, or move a 3rd party container for you. Visit our service area page to see where we can go!
Watch this video to see one of our intermodal sidelifter trucks in action, and imagine how it can save you time and money in your application!
Depend on Our Pros to Share the Load.
When it comes to shipping containers, you can forget about the complexities and leave the logistics to the pros at Orbital Transport. If it's in a shipping container, we provide a turnkey solution; load it, move it, and store it.
If you have any questions about your cargo container needs, give us a call and we will be more than happy to answer any question you may have.