Modular Container Custom modifications
Conex containers are highly customizable and can easily meet the needs of any tough job site that requires unique features. Our customization options are certain to meet the needs of any of our customers. Using shipping containers, we have created custom mobile offices, secure storage rooms, on-site lunch rooms, and even mobile lounges and reception rooms. Whatever your needs are for on-site storage or for office space, our skilled team can create it. Don't waste time and money by building on-site offices and storage, let us handle it!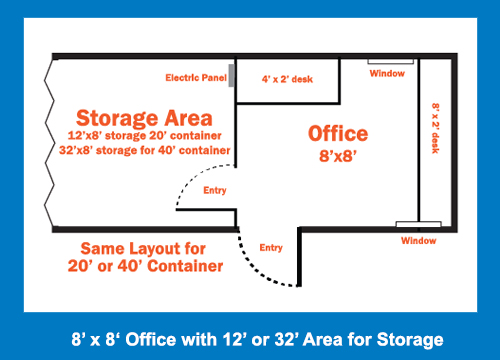 We provide tough, weather resistant, customized, and functional offices spaces and secure storage units. Our standard conex storage containers can be fitted for whatever special needs you may have on your jobsite. Mobile lunchrooms, mobile offices, secure onsite storage, and more! We can make whatever you envision!
We can add electrical, windows, locking doors, heating, a/c, vents, and more to your mobile office! Then we can deliver it straight to your job site!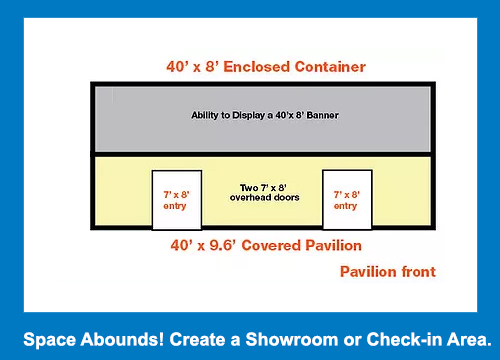 Pavilions & Meeting Spaces
One of our clients approached us with an idea that was outside of the conex container box! They wanted to set up a welcome center outside of a trade show that they were hosting.
Mobile pavilions are a great accent that compliments and enhances mobile meeting sites. Highly customizable, mobile pavilions can be built to suit any need.
We can outfit any conex container with electricity, windows, shelves, built-in work spaces, or whatever you need to create the ideal outdoor entertainment area for your event.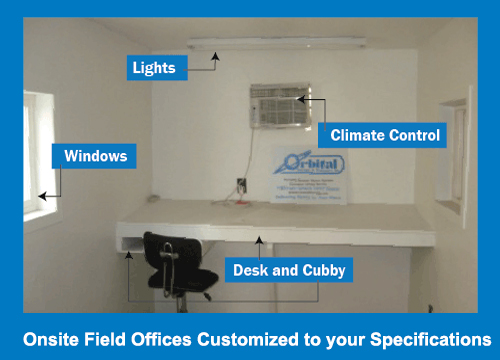 Indoor or outdoor, our mobile office solutions have countless applications! Ideal for expanding factories, enhancing security, or even for festivals, our mobile solutions are cost effective, secure, time saving, and enhance any location or event! We can install ticket windows, electrical, and other fixtures to meet your needs!
Mobile ticket booths, mobile guard shacks, mobile offices in a factory, mobile storage at events – dream big and let us build it!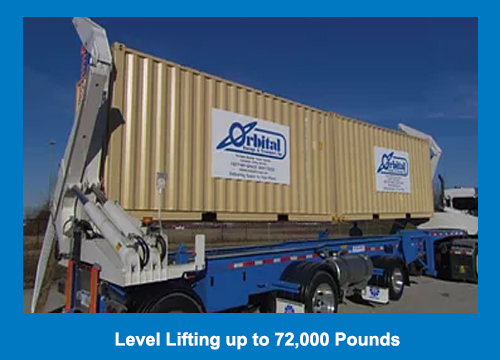 Delivered Straight To You
We will deliver your onsite modular office right to you, wherever you are! Whether we are delivering temporary storage for a soccer tournament or a heavy duty work shop to an industrial construction worksite, we have you covered! We can even lift, load, and transport offices with their contents inside! Your office or ours, we have you covered!
Our custom mobile offices are made from corten steel. They are secure, weather resistant, highly customizable, and heavy duty, ready to go anywhere you need them! 
Our custom modified conex containers are the ideal secure storage solution for your job site! Orbital Transport can accommodate almost any need you foresee with your storage requirements.
Stop losing tools and supplies to theft! Lock it up!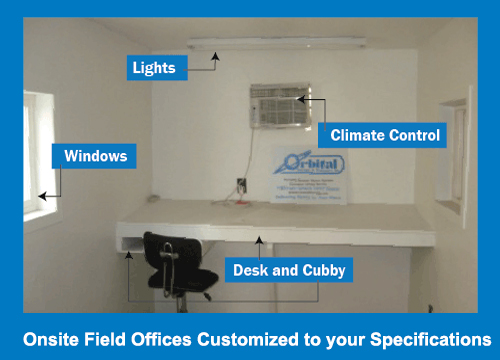 Countless Options & Custom Layouts
Our customizable on-site mobile offices and storage rooms are built tough to be secure, and withstand rugged work environments that will meet your needs. We can add windows, ramps, stairs, vents, shelves, doors, and more! 
Using our 20′ or 40′ all steel containers as a starting point, we work with you to understand your needs and create the ideal space.
We will build your custom space, move it, set it right on the ground wherever you need it.
Reasons to Choose Orbital Intermodal Transportation:
Transportation Provided for any 20 foot and 40 foot Standard Shipping Container
Unique, Intermodal Sidelifter Mobile Crane Trucks: No Tipping!
20′ and 40′ Shipping and Storage Container Rentals
Custom Container Modifications
Mobile Warehousing Storage
Onsite Ground Level Container Delivery
Continental US Shipping & delivery
Orbital Transport is reliable and offers unique solutions to your transportation needs. Contact us today to learn more about Orbital Transport!
Depend on Our Pros to Share the Load.
When it comes to shipping containers, you can forget about the complexities and leave the logistics to the pros at Orbital Transport. If it's in a shipping container, we provide a turnkey solution; load it, move it, and store it.
If you have any questions about your cargo container needs, give us a call and we will be more than happy to answer any question you may have.