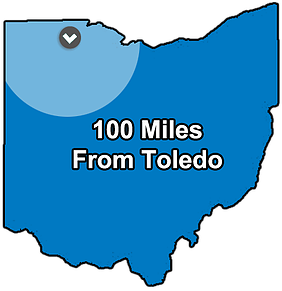 Orbital Transport offers intermodal trucking, storage, container rentals, and custom modifications in northwestern Ohio! Located in the Toledo area, Orbital will work within a 100 mile radius from it's main office! Orbital Transport also offers national delivery and limited shipping into Canada.
Ohio Areas: Toledo, Findlay, Maumee, Perrysburg, Port Clinton, Oregon, Rossford, Delta, Bowling Green, Defiance, Fremont, Lima, and many more cities in Ohio! Any city within 100 miles of Toledo, we will service!
Our Toledo, Ohio Location Offers:
Portable Storage Containers 20 and 40 foot
Custom Modifications
Mobile Storage
Transport Of Storage Conex Containers
Storage and Shipping Conex Container Rentals
National delivery, and shipping into Canada!
Check out our Michigan service area for more!
National Delivery & Delivery Into Canada!
You load it, we move it! We can ship your container, our container, or a 3rd party container!
Reasons to Choose Orbital Intermodal Transportation:
Transportation Provided for Any 20 or 40 Foot Standard Shipping Container
Unique, Intermodal Sidelifter Mobile Crane Trucks: No Tipping!
20' and 40' Shipping and Storage Container Rentals
Custom Container Modifications
Mobile Warehousing Storage
Onsite Ground Level Container Delivery
Continental US and Canada Shipping & Delivery
We know and trust our partners and are able determine the best plan to get your goods from point A to point B. Orbital Transport is reliable and offers unique solutions to your transportation needs.
Contact us
today to learn more about Orbital Transport!
Depend on Our Pros to Share the Load.
When it comes to shipping containers, you can forget about the complexities and leave the logistics to the pros at Orbital Transport. If it's in a shipping container, we provide a turnkey solution; load it, move it, and store it.
If you have any questions about your cargo container needs, give us a call and we will be more than happy to answer any question you may have.