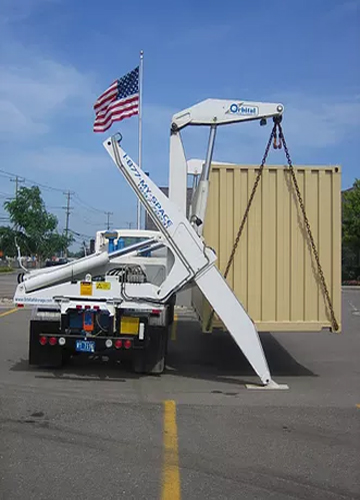 moving Conex containers with Orbital Transport
With Orbital Transport, moving is made easy. Whether it be your standard 20' or 40' containers, our conex containers, or a third party's container; we can do pickup and deliver fully loaded containers for you. 
Leave the hard work to us; our equipment is fully capable. 
"Our unique service provides specialized mobile sidelifter cranes, with untethered remote controls, to allow our operators to level lift and deliver your fully loaded standard shipping containers to your site." 
Intermodal Transport: 
Our intermodal sidelifter crane trucks are capable of lifting and moving fully-loaded conex shipping containers, up to 72,000 pounds at intermodal railyards, ports, container chassis or from the ground.
Lift Loaded Conex Containers:
Our unique ability to level lift loaded standard conex containers saves you time and money! Our specialized trucks are fully capable of level lifting fully loaded containers, with no additional equipment required.
Drayage Services:
Local pickup and delivery is available. Our drayage services are for the greater Detroit, Michigan and Toledo, Ohio areas.
National Services:
We go beyond local! We also offer national pick-up and delivery throughout the United States. Wherever you are, we can help you!
Lift Fully Loaded
35 Ton Capacity
20′ or 40′ Standard
Double Stacking
Intermodal Trucking
National Delivery
Drayage Service
Reasons to Choose Orbital Intermodal Transportation:
Transportation Provided for any 20 or 40 Foot Standard Shipping Container
Unique, Intermodal Sidelifter Mobile Crane Trucks: No Tipping!
20' and 40' Shipping and Storage Container Rentals
Custom Container Modifications
Mobile Warehousing Storage
Onsite Ground Level Container Delivery
Continental US Shipping & Delivery
Orbital Transport is reliable and offers unique solutions to your transportation needs. Contact us today to learn more about Orbital Transport!
Depend on Our Pros to Share the Load.
When it comes to shipping containers, you can forget about the complexities and leave the logistics to the pros at Orbital Transport. If it's in a shipping container, we provide a turnkey solution; load it, move it, and store it.
If you have any questions about your cargo container needs, give us a call and we will be more than happy to answer any question you may have.